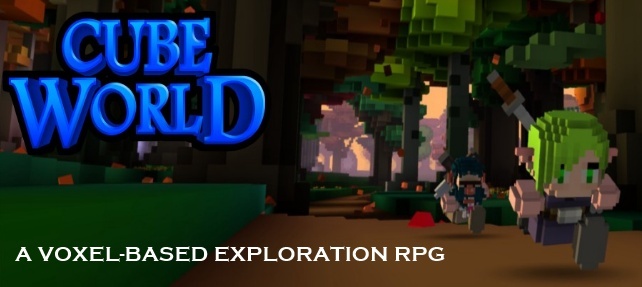 The only thing I can say is "THIS GAME LOOKS FUCKING SEXY" even though the name is super generic.
Cube World is like Minecraft in a sorta way, but with more RPG elements such as daily quests, character customization, races, skill trees, and classes. The world is infinitly generated and the combat system is rather neat.
There is also a unique pet system where pets evolve over time and training. I havent had a whole lot of time to look into it but the game looks really fun. It cannot be purchased yet, as the alpha release is just now being polished up. I plan to buy this game as soon as it come out though.
You can read WAY more here: The game is too awesome to sum up here!
[You must be registered and logged in to see this link.]
Chillin'





Posts

: 1572


Age

: 24



Another awesome looking game I can't play because my computer sucks :c
The game requires a hell of a graphics card to run smoothly. I can hardly run the demo on this computer (Nvidia GeFore 650SE JUNK)
But I bet my laptop can run it. The Alpha only costs 15 bucks and is publicly available now!

I hope to buy this game soon.
Chillin'





Posts

: 1572


Age

: 24



I just got the game a few days ago, but I'm going to have to wait until the game is better optimized.
The game currently has no support for those lacking a mouse wheel, and the HUD doesn't scale to your resolution (resulting in elements appearing outside the screen). It also lacks multiple video options, all it has is AA, resolution, and render distance, so you'll be getting some awful FPS if you just meet the requirements, and don't forget, you can't change the controls yet

That sounds unfortunate. This game looked so cool a year ago when there was a bunch of buzz surrounding it, but I guess as public interest died down, so did the game's development. I always thought it would be a cool game though, so I hope eventually progress is picked back up again.
PC Gamer





Posts

: 1680


Age

: 21



That's actually how I came around to buying it actually. One day I was wondering what happened to Cube World, since I used to hear about it a lot, and since I've got my better computer now I bought it. I just hope they work on optimizing the game sooner rather than later.

---
Permissions in this forum:
You
cannot
reply to topics in this forum